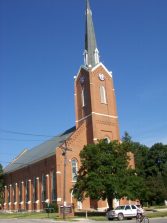 Please feel free to send an email of good news regarding your family or neighbors in or near Edina. We would love to hear from you. When you send the email, I will copy and paste it into this page.



9 August 2014 Edina continues to show her colors! Thanks to the continued kindness of citizens of Edina and her sister city Hurdland, a truckload of wood was donated to a family that will be able to stay warm this winter. Elders Cook and Schwendiman, missionaries from the Church of Jesus Christ of Latter-day Saints, helped load the wood to be taken away. Thank you all!




9 August 2014 As you can see, this author does not write often. However, a very belated thanks goes to the wonderful citizens of Edina for finding Molly, whom we were caring for in her owner's absense. She was out over five days, most of the nights dropping below 0 degrees. Thanks to the many people in town watching for her, and the wonderful people who went searching for her, we were able to finally find her. Even our own, Echo, of the Edina Sentinal went searching for her. Edina Rocks!

28 September 2009
One of our local businesses has a new website. He recently moved to Kirksville. We will miss youSparky's Electric!
"After Nearly 15 years in business, Sparky's Electric Proudly Announces, the addition of a brand new, Sparky's Electric, Website. Check it out here: www.sparkys-electric.net"
We personally (Terry and Janet Radford) use Sparky's Electric for all of our plumbing and electrical needs. He is dependable and a good worker with reasonable prices. Thank you Sparky!

9 June 2008 This editor has learned that Arment is much more than just a commercial carpet cleaning business. Please visit this page

to see more about Arment's many services: auto care, janitorial equipment supplies and services, commercial and industrial floor care, small engine repair, and more. If you need something fixed, check with them first before driving to towns miles away.

2 January 2008 "We want to invite you to register at the Knox County Library at 120 S. Main St. in Edina, MO. We have lots to offer for a small town library. Also, we would like to post a thank you to whoever cleared our walk after the recent snow storms. We arrived at 8 a.m. expecting to shovel snow, and were so happy to find a clear path." Marilyn Goodwin, Librarian

9 June 2007
Today a new family moved into Edina. To make that move easier, because they had a large moving van, a member of the Church of Jesus Christ of Latter Day Saints from Kirksville collected two missionaires (from same church) and traveled to Edina to help. Also, the Radford family of Edina arrived to help the new family unload. After that, everyone got into their cars and went over to the Radford's house. There was a young lady, Carla Hunter, who had just arrived from Columbia to pick up a piano to use in teaching voice lessons. She brought a truck and two flat dollies, plus Bishop Jim O'Louglan, of her church (also the Church of Jesus Christ of Latter Day Saints in a branch in Columbia) and a couple friends. Together, everyone pushed and lifted until the piano was safely in the truck and on it's way. Another fine example of Missouri hospitality!

2 June 2007
City-wide Yard Sales! - There were 30 yard sales registered in town, as well as 6 out of town. It was lots of fun, with "shop till you drop" and save money at the same time. Let's hope there is another one next year. Thank you, Betty and Vivian, for all your efforts organizing this.

12 June 2010
City-wide Yard Sales! - Our City-wide yard sale is due to happen the 2nd Saturday in each year.

10-12 September 2010
Corn Festival is due to happen the weekend after Labor Day each year.