(The warning you get on your screen for ACTIVE X is just to let you know that there is my music on this page. If you click "do not allow", the music may not come on. If you click "allow", then "yes", it will come on. I have included a button so you can pause or replay the music.)
Treasure Edina is about Edina Missouri's residents. What they are like, what they can do. Please return often for updates.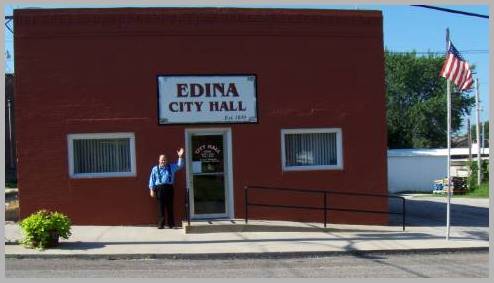 Edina Missouri is a big change for us from living in the big city of Boise, Idaho. No traffic (fabulous!), less shopping opportunities (that can be overcome), fresh air and space where people can be people. That is what this website is all about. When we arrived in Edina Missouri, we were driving the largest moving van we could find. We got stuck right in front of our house (lots of rain just before that, and the truck was really heavy). The noise of trying to get out of the mud alerted a neighbor and we entered our first experience of Missouri hospitality with his concern and desire to help. Another neighbor showed up with a tractor and pulled us out. Edina people are that way. They like to get to know you and help when they can. I really believe them when they say, Edina Missouri is Gods country. This site is my "Thank you" to Missouri citizens. Editor

Following are the sections of this website and a little about them:

Home - This page.


Blog - Is a journal of events in Edina Missouri. These are the good things that can be left out in the "news". Please share your experiences with us as well.


Businesses - Is a list of businesses in Edina Missouri, telephone numbers, web addresses and physical addresses where found. As these can change from time to time, please let us know if you see any errors.


Entrepenuer - This is a page of links to people found in or near Edina Missouri that have talents that they have used to raise animals, do woodwork, etc. that you can use as a resource. As above, if you know of any others, please let us know. We will post all we are able to, with their permission of course.


Events - This is a partial list of things that have happened or are currently happening in Edina Missouri. Please use the list to broaden your family's experiences and add to it if you can.


Farmers' Market - Our summer garden event, farmers and crafters meet to sell their items.


Memorial Day - Our first experience with an Edina Missouri community event. It includes word-for-word, the text of the key-note speaker, State Senator Wes Shoemyer.


Welcome Neighbor - This page is for anyone considering moving to Edina Missouri. It will tell you where businesses are to get all your paperwork done (license, utilities, etc.) and what you will need to do it.


Contact Us - where you can find info about the creator of this website.
We have added many pages to the site, so created a page that is an index in case you would like to see the pages that way or would like to find a page and can't remember where it was. There are many pages regarding the 2007 Edina Corn Festival. You can begin seeing them through the events link. There is a page with our first photo contest that you can visit. We hope many will see the site and submit photos. If you would like to add to our website, or have comments, please contact us at: janetsmail2004@yahoo.com in Edina Missouri. I hope you enjoy visiting our site and find it useful.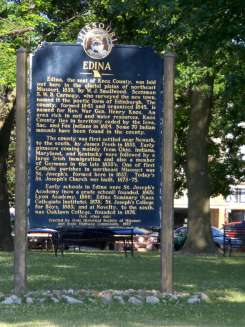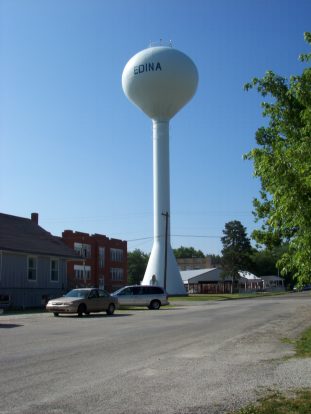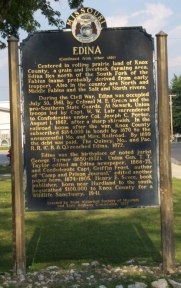 Click directly on the bird house in the above photo to see an enlargement.
If you love this song as much as I do, this is where you go to see where I got it- Bob's Mighty Midi Web Site. Thank you Bob!